Los Angeles County DA Vows Vigorous Prosecution for Shocking Crimes
By Dolores Quintana
Los Angeles County District Attorney George Gascón announced on November 13 the filing of three murder charges against Samuel Bond Haskell in connection with the deaths of his wife, Mei Haskell, 37, and her parents, Gaoshan Li, 72, and Yanxiang Wang, 64, in Tarzana.
"These shocking and gruesome crimes have sent shockwaves through our community. We stand with the victims' loved ones during this unimaginably difficult time and will do everything in our power to ensure justice is served," District Attorney Gascón stated. "Our Major Crimes Division will work tirelessly to bring about a prosecution that reflects the severity of this devastating crime."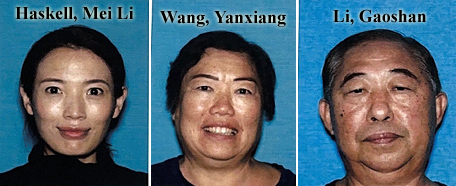 Samuel Bond Haskell is charged with three counts of murder, with the special circumstance of multiple murders also alleged. Haskell's arraignment has been continued to December 8 in Division 30 at the Clara Shortridge Foltz Criminal Justice Center.
The victims, who had been residing in the Tarzana residence with Haskell and the couple's three young children, were last seen on or about November 6. The children were removed from Haskell's custody.
On November 7, Haskell allegedly hired four-day laborers to remove several heavy black plastic trash bags from his home in Tarzana. One of the laborers discovered human body parts upon opening one of the bags and promptly called 911 to report the incident. According to multiple reports, the day laborers attempted to inform the Los Angeles Police Department in person but were turned away.
On the same day, Haskell was purportedly observed and photographed a short distance from his home disposing of a large trash bag into a dumpster in the 16000 block of Ventura Boulevard.
On November 8, an unhoused individual searching through the same dumpster discovered a torso in a trash bag and immediately called 911. Haskell was arrested on November 8 and is currently held on no bail. If convicted as charged, Haskell could face a maximum sentence of life without the possibility of parole.
The case is being prosecuted by LADA's Major Crimes Division and investigated by the Los Angeles Police Department's Robbery-Homicide Division.
Haskell is the son of Emmy-winning producer Sam Haskell, who is a partner of singer and entertainer Dolly Parton, at Magnolia Hill Productions. Sam Haskell was formerly an agent at the William Morris Agency, now known as William Morris Endeavor, which is located in Beverly Hills. Haskell Sr. worked his way up in the WMA mailroom through the agent trainee program, eventually becoming Executive Vice President, a member of the WMA Board of Directors, and Worldwide Head of Television prior to his retirement. His biography at Magnolia Hill states that he was known as "the nice guy in Hollywood," and his clients included George Clooney, Whoopi Goldberg, Debbie Allen, and His Royal Highness The Prince Edward, Duke of Edinburgh.