If You Are Still Looking for the Perfect Thanksgiving Meal or Dessert, Check Out Our Master List
By Dolores Quintana
It's nearly Thanksgiving and you don't have to do all the work. There are many fantastic choices among some of Los Angeles' finest restaurants and pop-ups that are offering full Thanksgiving dinners and pies for the occasion or are open and serving dinner for you for the holiday. There are also many of Los Angeles' finest bakers who are taking pre-orders for pies, cookies, and even ice cream.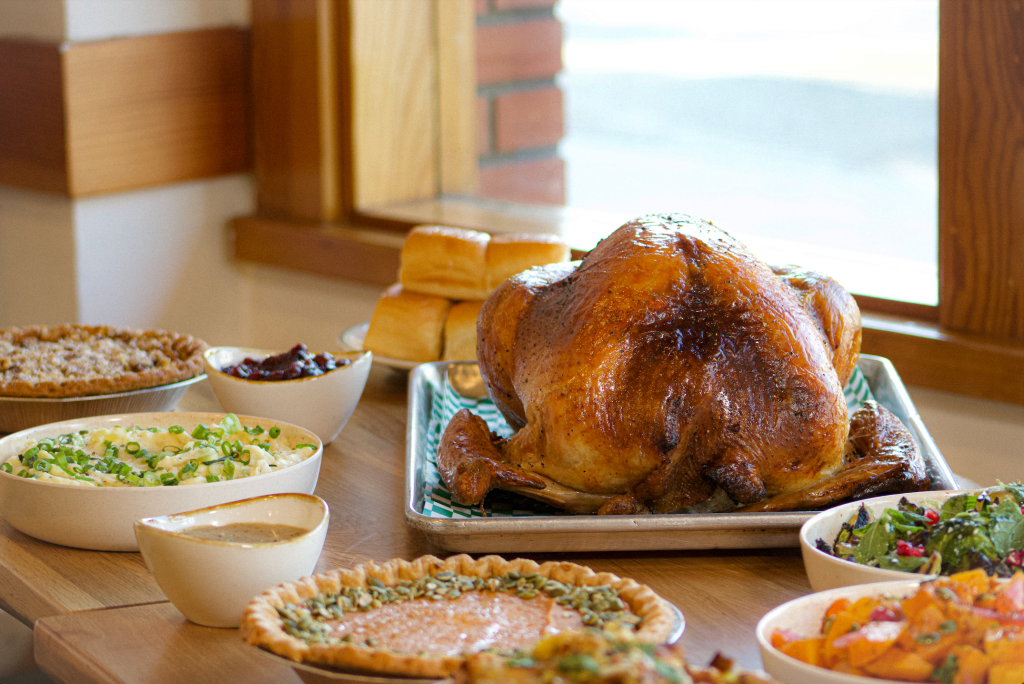 Maple Block Barbeque in Culver City has already sold out of their special wood-smoked turkeys. However, they still have sides, in case you need them: Maple Block Buttermilk Biscuits with Whipped Honey Butter, classic sides like Cornbread-Sausage Stuffing, Mashed Potatoes with Turkey Gravy, Roasted Brussels Sprouts with Bacon, and a whole lot more. Or just select our "Sides Package" and get them all! At the end of this online form, you will be able to select your preferred time of pick on Thursday, November 23rd. You can order on their online form.
Artelice Patisserie just announced that they will be selling some of their incredibly beautiful and delicious desserts for Thanksgiving in late-breaking news. They have Pecan Tarts, Pumpkin Tarts, and Apple Tarts
You can place your orders for Wednesday, November 22nd via in-person visit, calling, or emailing info@artelicela.com. Please include your pick-up location phone number and make sure you get a confirmation email.
Culver City's Lei'd Cookies and All About The Cinnamon Baby are taking pre-orders for Thanksgiving. We will be offering a special 1 day only, pre-order collaboration. We will be in the bakery for special hours of Noon – 8 pm the day before Thanksgiving, to offer our full menu and special selection of cinnamon rolls. For best pricing and availability please pre-order both your cookies and buns by the 18th. Email leidcookies@gmail.com or allaboutthecinnamonbaby@gmail.com. In addition, Sad Girl Creamery will be at Lei'd Cookies with her famous chocotacos. Next Wednesday, November 23rd, just in time for turkey day we will be at @leidcookies in Culver City from 12:00 p.m. to 4:00 p.m. She will bring three different varieties of her handmade ice cream tacos and yes, they do always sell out.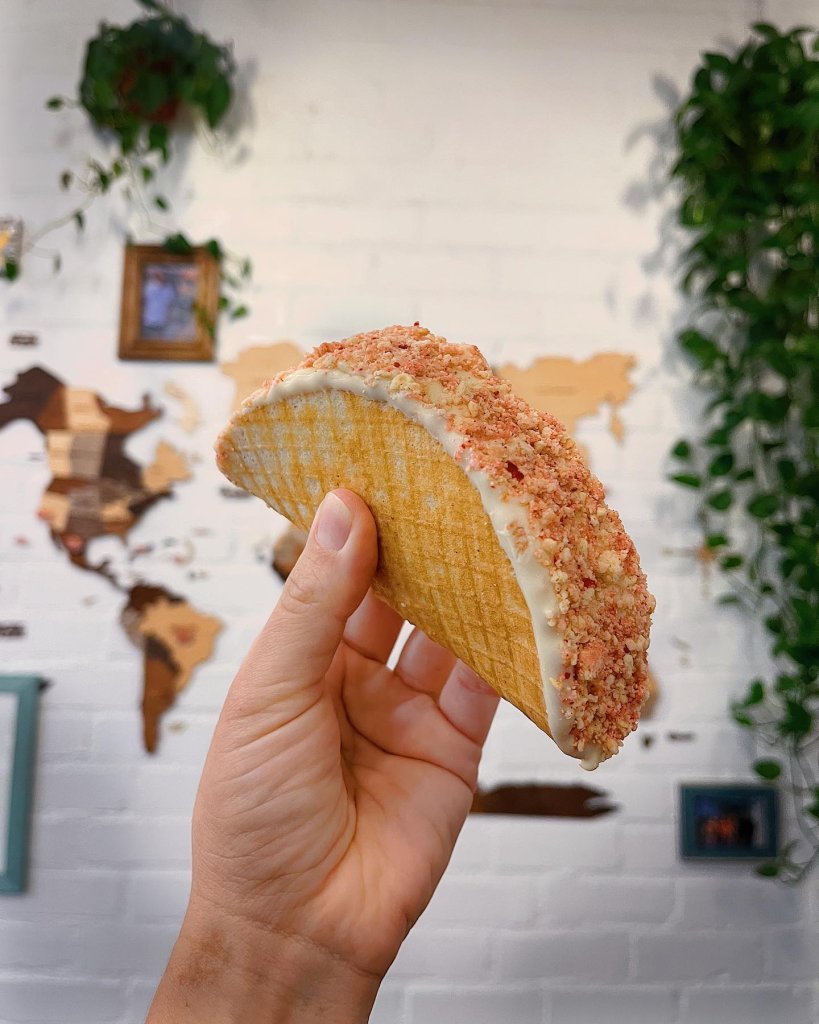 Breakaway Cafe, one of Culver City's favorite cafes, is also offering the classic Thanksgiving spread and pies, you have until today, November 16, to order here. You can order a bird a la carte or a full dinner for eight which includes: Organic Turkey, 1 Quart Turkey Gravy, 1 Quart Cranberry Sauce and three sides, rolls with herb butter, butternut squash, garlic mashed potatoes, bacon/leek stuffing, honey glazed root vegetables, roasted Brussels sprouts, and more. They do have a vegan option, vegan roasted tofu with rice pilaf, and for dessert, apple and pumpkin pies.
Orders placed will be available for pickup on November 22nd and 23rd. Thanksgiving Pickup Orders will be available for pickup 2 doors down at the LA Cooking School – 8690 Washington Blvd.
Fat & Flour's pies are nearly sold out but they still have the peanut butter pretzel pie and frozen cheddar bay, yes, just like Red Lobster, biscuits albeit with low stock. Order here. You can pick them up at 317 S. Broadway, DTLA, or 11739 W. Washington Blvd, Culver City on Wednesday, November 22, 9:00 am – 5:00 pm
Huckleberry's Thanksgiving Catering – The team showcases the fall bounty of the Santa Monia Farmers' Market with its annual Thanksgiving takeout & delivery menu. Enjoy a Half Mary's Organic Turkey with oven-roasted breast and braised leg & thigh, creamy Smashed Potatoes, organic Cranberry sauce with orange & cinnamon, and Traditional Stuffing with Milo + Olive bread.
For vegetarians, there's Maple Roasted Delicata Squash with pomegranate, toasted pumpkin seeds, goat cheese & crispy sage, Roasted Broccolini with tarragon vinaigrette, and much more. Desserts include organic Pumpkin and Bourbon Pecan Pies, Maple Baked Apples topped with a walnut-oat crumble, and Turkey-Shaped Ginger Cookies.
Esters Wine Shop & Bar also curated feast-friendly wines and cheese, charcuterie, and market vegetable platters to include with one's order. The full menu is on Huckleberry's website, along with a link to order online by November 16 at 3 p.m. for pickup and delivery on November 23 from 9-11 a.m. Please note, this menu is NOT available for dine-in—it's pre-order only for takeout.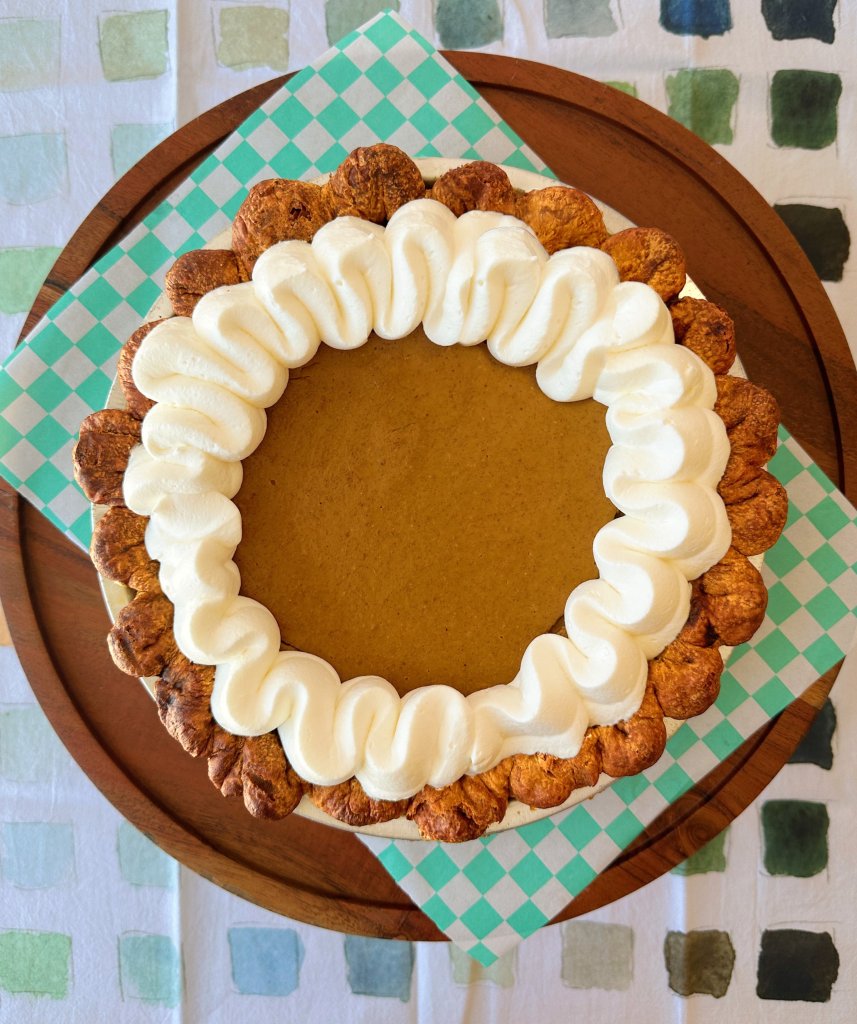 Bistro LQ, Chef Laurent Quenioux's offers a "Thanksgiving Boxx," on 11/23/23, for morning delivery for only $75.00. Order on his website, only a few left. Menu Package One Regular Snack: Pâtè en croute, cornichon, Northern California Organic Turkey Roulade Porchetta style, Sweet Potato and Kuri Squash Mousse | Bourbon and roasted Pecans, Sage stuffing with Prunes, Rosemary Gravy, Creamed Pearl Onions with fresh thyme from the garden, Sautéed Green Beans with Garlic, Parsley, and Chanterelles mushrooms, La creme Baguette and Bordier Butter, Cranberry and orange pomegranate sauce, Fall salad with a side of Ranch Dressing and diced smoked duck, sweet potato cheesecake. Optional Cheese from France (Vacherin will be available)
For those of you who need some help preparing your own meal, Chef Dara Yu of Santa Monica's Gourmandise School will be holding a virtual Thanksgiving Prep class on November 22! Chef Dara will walk you through the key components of the perfect Thanksgiving meal from the comfort of your own home the day before the big feast! Learn how to season your bird, create a stuffing to remember, and prep out a fabulous vegetable side. We'll send you the list of things you need for your Zoom class, and you can ask any questions and show your work along the way. The school actually has many different holiday-themed in-person classes as well on their website. They cover nearly every topic imaginable.
Esters Thanksgiving Wines & Party Platters – This neighborhood wine shop & bar is open on Thanksgiving from 10 a.m.-4 p.m. for retail and pre-orders, so the team can help with any last-minute pairing needs. The shelves are already bursting with feast-friendly wines—bubbles and Beaujolais, crowd-pleasing Cabs and Chardonnays, and more adventurous selections like an orange wine from Austria. Every Sunday in November, Sommelier Randall Middleton has lined up Thanksgiving and holiday gift-themed Wine Tastings, available all day for $25/person. Bonus – Happy Hour now runs all day on Sundays and Mondays.
Plus, there are gorgeous Cheese, Charcuterie, and Farmers' Market Vegetable Platters available to pre-order now through Esters' website (click the "Order Takeout" button) for pickup and delivery on November 23. They're a classy way to kick off the Thanksgiving meal.
All Day Baby offers five different pies for your Thanksgiving dinner for pickup on Wednesday, November 22: Pumpkin Cheesecake, Graham Crust, Whipped Cream, Spiced Pepitas Spiced Sweet Potato, Toasted Marshmallow Pear, Apple, Cranberry, Brown Butter Crumble, Banana Cream, Dulce de Leche, Chocolate Cream, Vietnamese Coffee Jam. You can order on their website.
Sweet Rose Creamery's Thanksgiving Ice Cream Pies & Festive Flavors – With the warm SoCal weather, these Ice Cream Pies have become a sweet Thanksgiving and Friendsgiving tradition. There's a chocolatey Pecan Pie with brown sugar ice cream, a creamy Vegan Pumpkin Pie with dairy-free pumpkin ice cream piled into a gingerbread crust, and a salty crumble & caramel-topped Apple Pie. From November 6-30, ice cream pies are available on a first-come, first-served basis at the Brentwood Country Mart and Main Street shops. To guarantee a pie for Thanksgiving, pre-order through Sweet Rose Creamery's website by November 19 at Noon for pickup from November 20-22.
Are you making your own pie? Up your à la mode game with a scoop of Brightland Olive Oil Almond Ice Cream. Sweet Rose Creamery partnered with Brightland for this November flavor collaboration, which features their bright, grassy, and slightly floral "Alive" olive oil spun into a rich custard base with Fat Uncle Farms' almonds. It's also a November tradition for Sweet Rose to showcase Thanksgiving-y flavors, like Buttered Pecan, Caramel Apple Crisp, and Dairy-Free and gluten-free Pumpkin Ice Cream. All of these flavors are available until November 30 at the Brentwood Country Mart and Main Street Shops, as well as through the delivery platforms.
Salt and Straw (multiple locations) is bringing back its traditional Thanksgiving flavors for 2023 and they are as adventurous as ever. This year Parker House Rolls w/ Salted Buttercream, Cheesy Potato Casserole, Turkey Stuffing & Cranberry Sauce, Mom's Mango Pie, Pumpkin & Gingersnap Pie (vegan). You can order from their website.

West Hollywood's Ardor will be serving a plant-based dinner that takes all the work out of your hands, except for getting a reservation. Ardor by Chef John Fraser will be open and is serving up a vegetable-forward festive three-course tasting menu this year, so am pleased to share further details below. Reservations for November 23 are open now and available here.
With menu direction by Chef John Fraser, experience a produce-driven, autumnal menu with creative expressions of the holiday classics. With reservations available from 3:00 p.m. to 5:30 p.m., enjoy the flavors of fall in the lush greenery of Ardor's dining room for $85 per person.
A unique take on the traditional Thanksgiving dinner, the menu features a first course of Roasted Parsnip Bisque, Raw Cauliflower Cacio Pepe, or Hamachi Ceviche. The main course offers a plant-based Sweet Potato Curry or Roasted Turkey with a warm spice rub and served with Crispy Brussels, Pommes Puree, and topped with Sauce Poulette. The dessert course offers holiday diners a choice of Ardor's Pie, made with Spiced Financier, Brown butter Crème Patisserie, Pepita Seeds, and Sweet Potato Ice Cream, or Pecan, a Warm Chocolate Mousse with Pecan Prailine and paired with Pear Sorbet. Additional dishes can be added to the tasting menu including Butternut Squah Agnolotti and Prime Filet Mignon, and Ardor's a la carte dinner menu will also be available.
Kismet Rotisserie, which just opened in Culver City, doesn't have chicken but does have rotisserie chicken and Mediterranean sides and a Thanksgiving package that serves four on their website. This is great if you are tired of turkey and want more of a casual celebration.
Clark Street Bread – Brentwood, Larchmont has pies that you can pre-order here. Apple, Pecan, Pumpkin, plus pull-apart bread and pumpkin cookies for your Thanksgiving.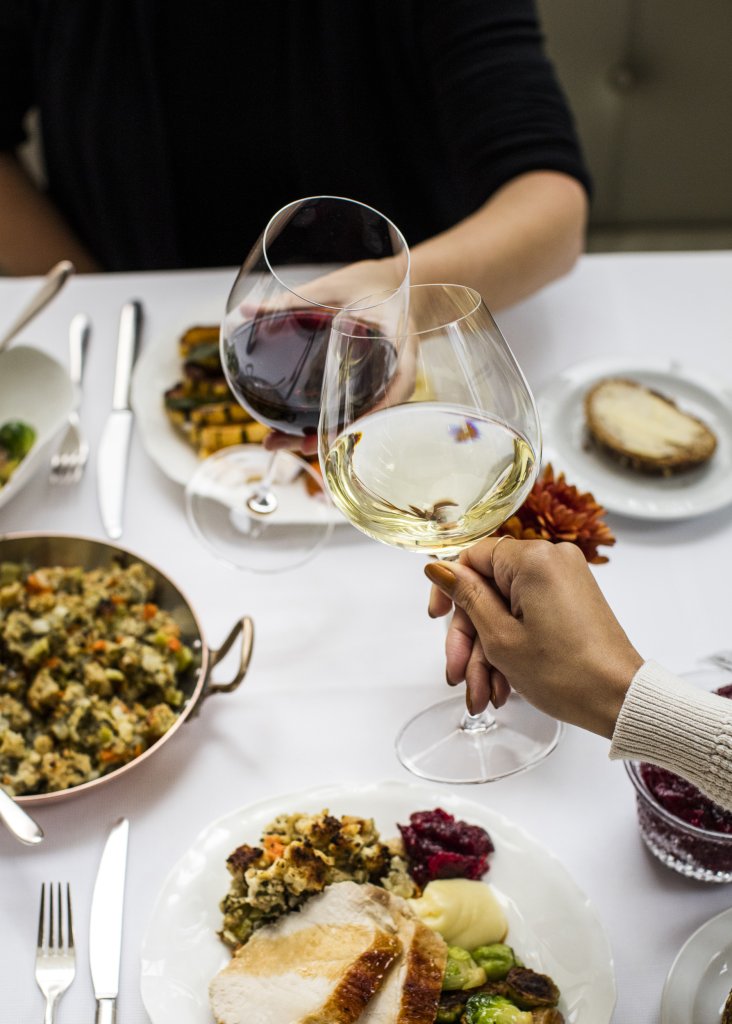 Chainsaw only has one type of pie left, but it's one of chef Karla Subero Pittol's best, the passionfruit lime icebox pie. Trust me, this is one of her best pies and a break from pumpkin pie. Order here.
Esters' Chef de Cuisine Sheyna McCallister is hosting a nostalgic, Friendsgiving-themed dinner. It's part of her Couchfire Pop-Up Series, which draws inspiration from the food her mom thought she knew how to cook, but better. She loves her mom, BTW.
The à la carte menu features Bourbon Brined Turkey, Cherry Glazed Ham, and a vegan Spaghetti Squash entrée, all of which come with your choice of 2 sides, alongside a variety of desserts such as Grandma's Chocolate Pie. The bar team is shaking up kitschy, specialty cocktails and pairing playful wines, so round up your pals for this fun and festive evening! Reservations are available via Resy, and we'll accept walk-ins, as long as we've got room.
The Rose Venice is proud to feature 3 delicious pies for your Thanksgiving meal: Pumpkin, Apple, and chocolate Chess. Offerings are available for pick-up on Tuesday 11/21 & Wednesday 11/22. Order cutoff: 11/17 5:00 p.m. Pies are baked and ready to serve/enjoy. Order here. Pick-up is located at The Rose Venice, 220 Rose Ave., Venice, CA 90291.
Baker's Bench, one of Los Angeles' premiere vegan bakeries has limited amounts of pies left, but you can order them here. Apple, Pumpkin, and Persimmon Walnut Custard pies are available. Maybe ten of each still remain. All Thanksgiving orders are available for pick up from 9:00 a.m. to noon on Wednesday 11/22 or Thanksgiving 11/23.
Culver City's other premiere cookie maker Fleur et Sel is doing a Thanksgiving pre-order that starts on November 17, for everyone whose T-Day planning is running late. Available Pick-Up Dates: You will be able to select your desired pick-up date upon ordering: Monday, November 20th, 1:00 p.m. to 4:00 p.m., Tuesday, November 21st, 1:00 p.m. to 4:00 p.m. and, Wednesday, November 22nd, 1:00 p.m. to 4:00 p.m
Available Cookie Flavors: Sea Salt Chocolate Chip, Vanilla Bean Sugar, Cinnamon Snickerdoodle, Pumpkin Spice Snickerdoodle, Oatmeal Chocolate Chip Walnut, Earl Grey + Vanilla London Fog, Raspberry Pistachio Amour and Caramelized Butter Pecan.
All flavors will be available to order in the following quantities: Grab bag (2 standard size cookies one flavor): $10/cellophane bag, Bakers Half dozen (6 standard size cookies one flavor): $30/box, Bakers dozen (14 mini cookies one flavor): $48/box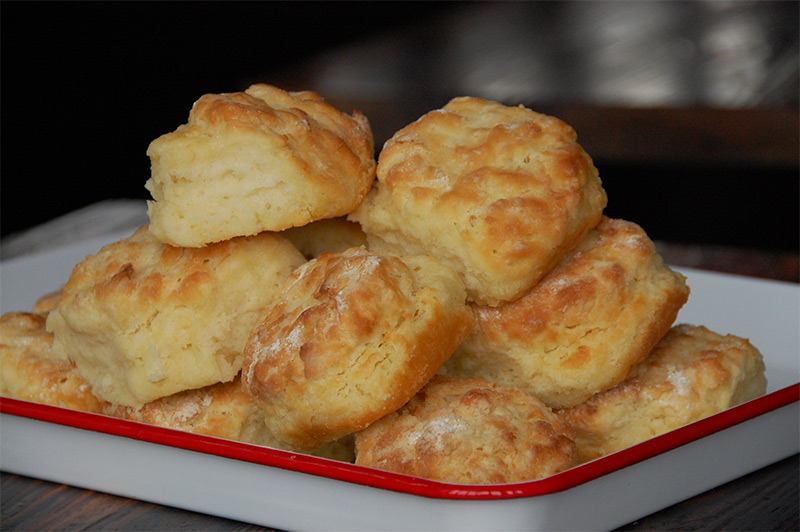 Waldorf Astoria Beverly Hills – Beverly Hills
The five-star hotel's newly opened Espelette restaurant is hosting a seasonally driven Thanksgiving dinner with live entertainment from 1:00 pm – 8:00 pm on Thanksgiving Day. The three-course prix-fixe meal starts with a family-style starter such as beef tartare cones with spicy aioli or langoustine papillote with frisée salad. Main courses include wagyu beef tenderloin with peppercorn sauce; Ora king salmon with white wine butter and black truffle; or whole-roasted Maine lobster with cauliflower tabbouleh. For dessert, choose from a chocolate pecan tart with a coffee glaze, apple tarte, or house-baked pumpkin pie. $175/person and $75 for kids 12 & under. Full menu here. Images here. Reservations are available on OpenTable here.
Hotel Casa del Mar – Santa Monica
For Thanksgiving with an ocean view, Casa is offering Thanksgiving brunch and dinner at its coastal-inspired Terrazza Lounge. Menu highlights include roasted Cinderella squash soup; autumn kale salad with lavender goat cheese; linguine with clams; and truffle potato gnocchi. The pièce de resistance: A healthy serving of Mary's slow-roasted organic turkey with apple and chestnut stuffing, mashed purple sweet potato, citrus cranberry sauce, farmer's market vegetables, and house-made gravy. Save room for chocolate eclairs, apple pie, and pumpkin cheesecake (available regular or vegan). Dinner is $125/person from 3:00 to 9:00 p.m. and lunch is $115/person from 11:00 am to 3:00 p.m. Reservations are available on OpenTable here.
Marina del Rey Hotel – Marina del Rey
Waterfront dining destination SALT Restaurant & Bar is offering a scenic Thanksgiving dinner at the Marina del Rey Hotel. With breathtaking marina views, the culinary team celebrates the holiday with festive seasonal dishes including Japanese Squash Coconut Bisque, Tuscan Kale-Endive Salad, Braised Beef Short Rib, Mary's Organic Turkey, Pecan Pie, and Pumpkin Pie. The á la carte menu is available on Thanksgiving Day from 4 pm – 10 pm. Reservations are available on the restaurant website here.
Jamaica Bay Inn – Marina del Rey
The hotel's waterfront Beachside Restaurant & Bar is offering a three-course prix fixe meal that includes a hearty harvest salad, creamy corn chowder topped with crispy bacon, succulent turkey, honey-glazed spiral ham, and classic pumpkin or pecan pie. Sides on offer include mashed potatoes, stuffing, cranberry sauce, and roasted Brussels sprouts. The menu is available on Thanksgiving Day from 12:00 pm to 10:00 pm with a limited a la carte menu as well. $70/person. Reservations are available on OpenTable here.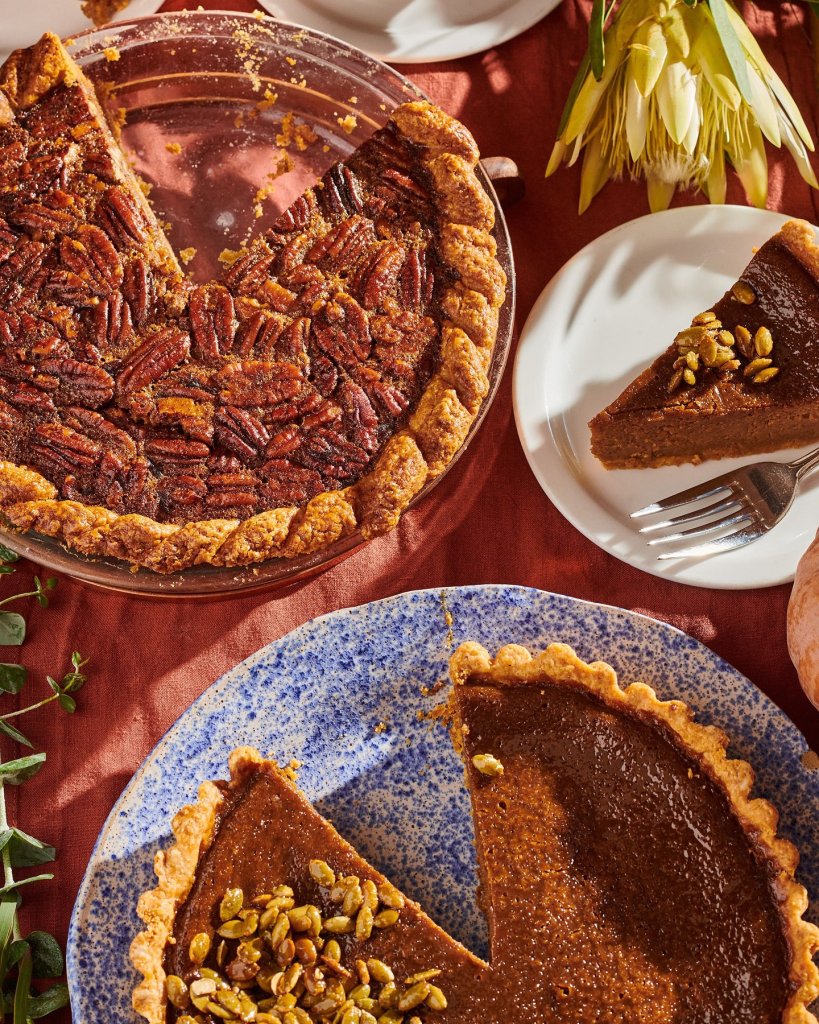 Belamar Hotel – Manhattan Beach Second Story at Hotel Belamar is offering a prix fixe menu featuring freshly baked dinner rolls with butter; Caesar salad with grilled romaine hearts, garlic herb crostini, and homemade dressing; and a choice of house-roasted turkey or pineapple-glazed ham. For dessert, guests can choose from pumpkin pie brûlée or berry tart. The menu is available on Thanksgiving Day from 11:00 am to close. $49/person and $19 for kids 12 & under. Reservations are available on OpenTable here