Massive Blaze Forces Closure of Key LA Freeway, Triggers Traffic Headaches
At 12:22 a.m. on November 11, the Los Angeles Fire Department was called to a major fire event in a pallet yard in the 1700 block of East 14th Street near Downtown LA. It took 26 fire companies and 164 firefighters to fight and extinguish the blaze which consumed the yard, multiple trailers, and a second pallet yard under the 10 Freeway. Firefighters also defended three commercial properties nearby. As a result, the 10 Freeway remains closed in both directions, between Alameda Street and Santa Fe Avenue until further notice.
The 10 Freeway is completely shut down between those two streets until the damage has been accessed and any needed repairs are completed. Obviously, this constitutes a major traffic issue for most of Los Angeles, especially the Westside of LA, either in attempting to leave the Westside to access other parts of the city or the east side of the metro area or returning to the area. It is likely that the closure will have an impact on all other freeways are drivers will attempt to take advantage of alternative routes which will lead to more congestion on the I-405, I-5, I-110, 1-210, State Route 60, and 118, and U.S. Route 101, city streets, and other highways. The California Department of Transportation is involved in assessing the damage and Cal Trans District 7 will issue updates.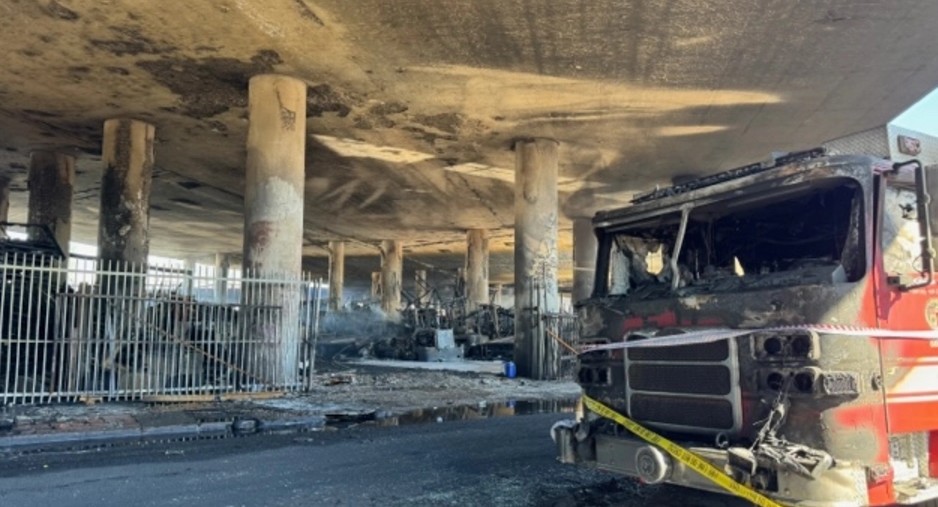 Prepare to use an alternative route on your commute through Downtown LA. Leave early and plan for delays. Here are some public transit options to avoid the freeway closure.
The following interchanges are either being diverted or are completely shut down:
The Los Angeles Department of Transportation recommends using these routes are alternatives:
10 Freeway – Eastbound
Exit the freeway at Alameda Street and 16th Street. To detour back onto the freeway, head northbound on Alameda, eastbound on Olympic Boulevard, and re-enter the 10 East mid-block on the approach to Lemon Street. Alternatively, head northbound on Alameda, eastbound on 7th Street, and enter the 5 freeway.
All 10 eastbound freeway on-ramps between the 110 freeway and Alameda are closed at this time.
10 Freeway – Westbound
Re-enter the 10 freeway westbound by traveling west on Washington Boulevard, north on Central Avenue, and west again on 16th Street,
For detailed maps, detour information, and updated information, visit emergency.lacity.gov/updates
The problem is so serious that California Governor Newsom proclaimed a State of Emergency in LA County Due to the I-10 freeway fire and closure on the same day. Governor Newsom surveyed the damage to I-10 alongside officials from LA Fire, California Highway Patrol (CHP), LA City Department of Transportation, California Transportation Secretary Toks Omishakin, Los Angeles Mayor Karen Bass, and other local leaders and emergency responders.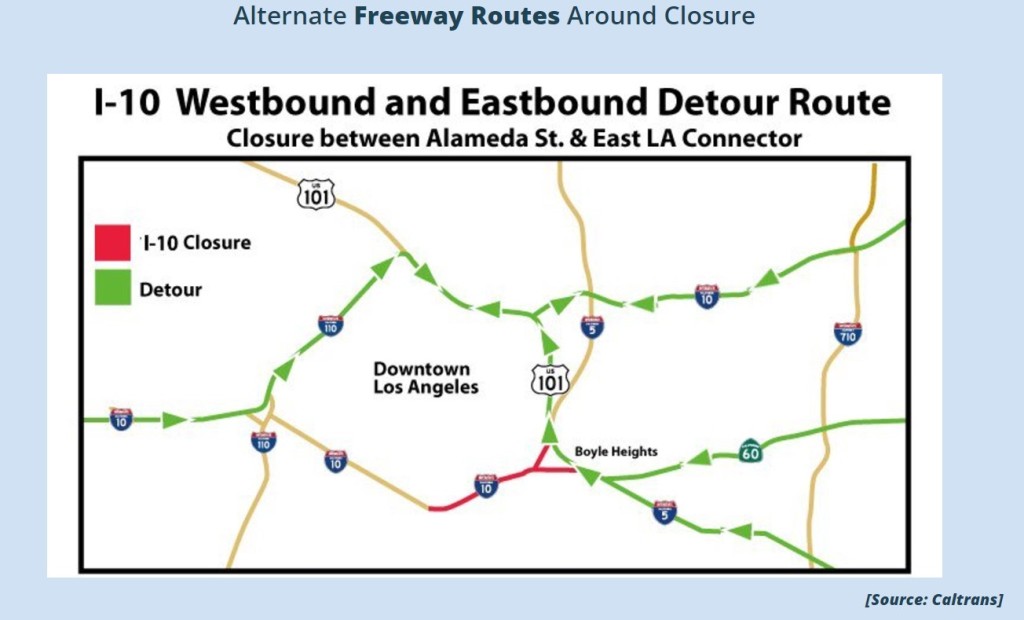 In his statement, Newsom said, "The state is mobilizing resources and taking steps to ensure any necessary repairs are completed as soon as possible to minimize the impact on those traveling in and around Los Angeles. I want to thank all of the first responders and firefighters working tirelessly to contain this fire. The state will assess damage, remove hazardous waste, and begin repairs as soon as the site can be accessed. Caltrans and the California Highway Patrol will continue to provide updates as they become available."
Mayor Karen Bass said, "I have directed all city departments to urgently respond to the impacts of this closure by ensuring that there is a plan for the hundreds of thousands of Angelenos who commute or live by this incident, and I am in touch with Secretary of Transportation Pete Buttigieg, Governor Newsom and our state partners to ensure that there are no barriers to getting this portion of the 10 Freeway up and running as fast as possible, While the repairs are being made, it is my top priority that we provide as much information as possible to ensure that our communities, our commuters, our businesses and all those who are impacted by this are well informed each step of the way."