TikTok Trend Spurs Special Partnership Between Brands
By Keemia Zhang
​Pringles and The Caviar Co. have collaborated to produce the "Crisps and Caviar Collection," inspired by a TikTok trend combining the two with over 10 billion views. Described as "the epitome of quiet luxury snacking," customers can choose from three kit offerings that come with spoons, ​​crème fraîche, and a gold collectible caviar keychain. There will also be a limited quantity of daily drops available while supplies last.
Pringles X Smokey Shores ($49) possesses a "bright, tangy, and balanced" flavor, offering Sour Cream and Onion with The Caviar Co's Smoked Trout Roe. ​​Pringles x Salt of The Sea ($110) serves Original Pringles with Classic White Sturgeon Caviar, producing "a harmonious blend of crunchy, creamy and salinity." A kit that combines the two, The Crisps and Caviar Flight, costs $140 in what the companies describe as a "full flavor flight."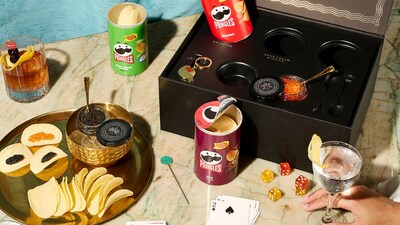 "Our partnership with The Caviar Co. not only embraces the trending snacking behavior in an approachable manner but expertly curates our beloved crisp flavors with this seafood delicacy for a Pringles tasting experience unlike one you've ever had before," stated Mauricio Jenkins, the marketing lead for Pringles in the U.S.
"We expertly paired our high-quality, sustainably sourced caviar and roe with Pringles flavors that complement each other in taste, aroma, and texture," remarked The Caviar Co's CEO, ​​Petra Higby. "..the result is a must-try collection that takes the guesswork out of pairing and serving caviar, is sure to elevate any occasion, and brings your caviar dreams to life."

Chip-and-caviar enjoyers can grab their limited-edition fix at PringlesandCaviar.shop while supplies last.