Interview With Co-Founder Kim Malek Talks About Their Hopes For Their New Shop
By Dolores Quintana
It's been six long years since Kim Malek first started looking for just the right storefront for Salt & Straw's Brentwood location, but the time has finally come, and the long-awaited ice cream shop is on the way, hopefully in December. Los Angeles' newest Salt & Straw shop will be located at 11640 San Vicente Boulevard, and fans of the beloved ice cream makers' divine desserts will be excited to learn what the new shop has in store for Brentwood.
Although Salt & Straw is originally from Portland, Oregon, their ice cream has really become a part of life in Los Angeles. Their thoughtful and delicious curation of flavors that use local ingredients and produce and their imaginative collaborations with other Los Angeles restaurants, farmers, and creators of fine foods make them stand out. I spoke with co-founder Kim Malek about the road to opening the shop in Brentwood and their plans for Salt & Straw Brentware.
Kim Malek: We're based in Portland. But we opened our fourth ever store in Los Angeles. So it's sort of like a second home to us. We're hoping to be ready to open in early December.
Dolores Quintana: So you might be open for the holidays, nice.
Kim Malek: That's our goal. We're feeling hopeful.
DQ: Can you reveal a location yet?
Kim Malek: Yes, 11640 San Vicente Boulevard. I have been looking for six years. Looking for just the right spot [in Brentwood.] You can go to many different areas. We wanted to be really thoughtful of where we ended up, and it just feels like this shop is surrounded by a lot of fantastic restaurants. So, it's an honor to be part of that community.
DQ: Which is great, and it is exciting that it took you that long and you gave so much consideration to what area of Brentwood you wanted to go into. Because location is so important for a shop.
Kim Malek: It is. We wanted to make it make sense. We find that folks like to go out to eat and shop and walk [in certain areas], so we wanted to be really thought about where we ended up.
DQ: Could you tell me a little bit about the history of your company? What have you done, and why you do it?
Kim Malek: I started Salt & Straw in 2011 with my cousin, Tyler. He and I still run the company today. I had a dream to open an ice cream shop since the mid-90s, believe it or not. The inspiration for me was always about creating community gathering places where people could run into their neighbors and spend time with friends and family. Tyler joined me. He is behind all of our flavors, and he quickly came to realize how our ice cream can reflect that idea of community, too.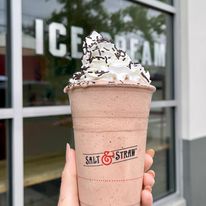 When we opened in Los Angeles, instead of just importing flavors from Portland, we worked really closely with the local chef and artisan community to create flavors that respected that community. So whether it's Sidecar Doughnuts or Compartés Chocolate, the list goes on and on, with local farmers with olives and avocados with all the different flavors that you would find in Southern California. It's just so fun to get to know those folks, that local community, and have the flavors be reflective of that, and it adds to the whole level of creativity. That's always been our inspiration and what we're about. You don't find Salt & Straw in grocery stores or things like that. We are focused on that community aspect and our shop.
DQ: I think the first time I ever had a savory ice cream, I believe it was the Salt & Straw olive ice cream.
Kim Malek: Yes. It's a candied olive, and I remember we were actually at the Santa Monica Farmers Market. and obviously the olives in Southern California. We were kind of freaking out. We were asking ourselves what could you do with this, and so we candied them.
DQ: It was great. When I say savory, you made it with a candied olive, but it was just so different that I think it blew people's minds. It kind of blew my mind when I tasted it; I thought, wait, they have ice cream with olives? Then, of course, that's the one I bought, and it was fantastic. You really kind of stepped out of the idea of what ice cream is supposed to be. That idea that it's supposed to be sweet and fruity and or chocolate or vanilla only.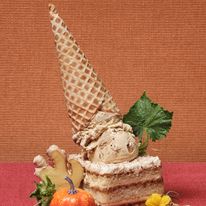 Kim Malek: I'm so glad you said that. That is so much what we tried to do. We change our menu every single month. Tyler and I are always stepping back and saying, what's going on this month that is either seasonal in nature or somehow salient to the season? How can we use ice cream to highlight those different months in creative ways to give people something to think about, talk about, and engage with each other? It's been a really fun journey, and I think one of the most exciting things about the company.
DQ: It really is. I think that's what helped Salt & Straw really make its mark in the Los Angeles market and in California. It's that Salt & Straw did have such different flavors and flavors that connected with California itself.
Kim Malek: I know, it's so funny. I was with someone last night; I ran into someone at our Northwest 23rd store here in Portland. He went to college in LA, and he said he wrote his senior paper on Salt & Straw. He said that while he was making his presentation, most people in his class were telling him, "No, no, it's from California; it's not an Oregon company!" It's just that feeling that people take ownership of the brand. You know, we're over the moon.
DQ: Is there anything else that you would like the people of Brentwood to know about Salt & Straw?
Kim Malek: Our dream is that this shop will be there for generations and that folks in the community will have memories with their friends and family for years and years to come; at the end of the day, that's how we'll know if we're successful. We want to be a part of the local schools as a really integrated part of the community. We want folks to reach out and get to know us and let us know how we can get involved in the local community. Again, we're honored. It's been a long time coming and and a dream come true, really.