Collaborative Efforts, Shelters Provide Safety Amidst Adverse Weather
By Dolores Quintana
The Los Angeles Homeless Services Authority (LAHSA) has been working in tandem with the Los Angeles Mayor's Office and LA County's Homeless Initiative throughout the weekend to provide assistance and shelter to unsheltered individuals in Southern California. LAHSA has taken on a pivotal role as the logistical hub for the city and county's coordinated response to the storm. The agency's emergency response protocol remains active for the duration of the weather event, and immediate assistance for those in need is available by dialing 211.
Enhanced Coordination with Partner Agencies
LAHSA has intensified collaboration with multiple agencies, including the Emergency Management Department (EMD), the Mayor's Office, the Department of Recreation and Parks, the Los Angeles Fire Department (LAFD), and the Los Angeles Police Department (LAPD). This collaborative effort aims to ensure a well-coordinated response to support individuals experiencing homelessness during the tropical storm. To facilitate this, LAHSA has initiated weekend meetings for outreach teams to disseminate information about available resources. A comprehensive resource sheet has been distributed through the LA-HOP platform to ensure all outreach staff have access to essential information.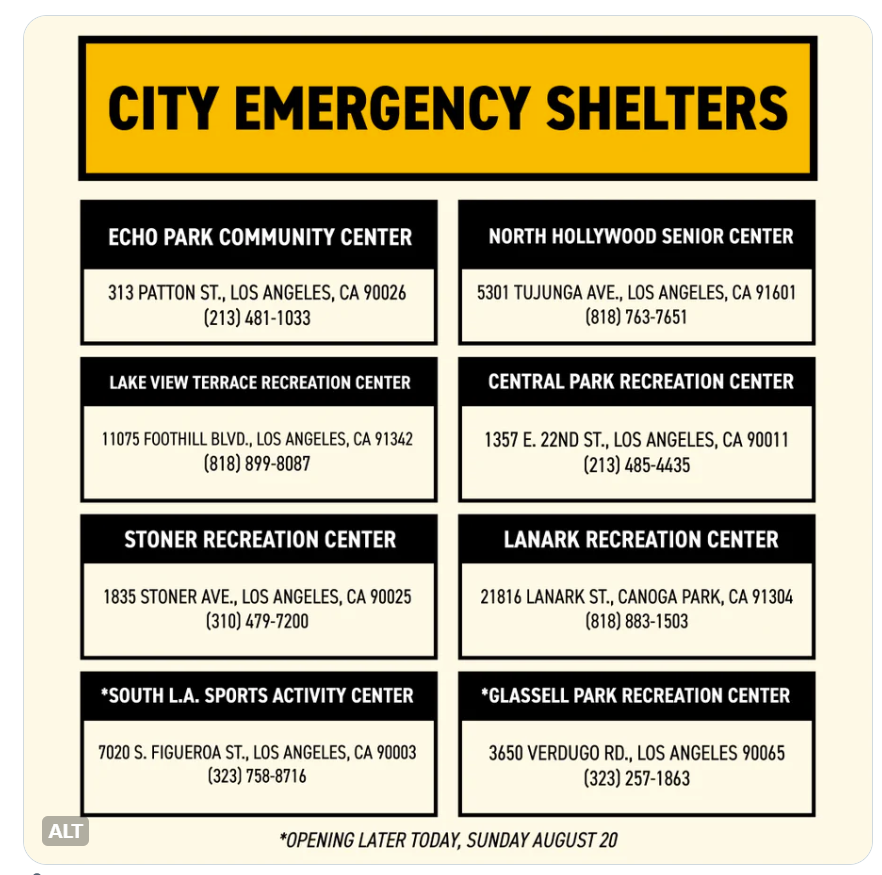 Emergency Storm Shelters
In partnership with the LA Mayor's Office and Recreation and Parks, LAHSA has designated eight Recreation and Parks locations as emergency shelter sites across the city. On Saturday morning, LAHSA coordinated the delivery of cots, water, blankets, and towels to these shelters and provided additional staffing support as required. Additionally, LAHSA, in collaboration with Los Angeles County, is actively identifying and preparing additional congregate storm shelter locations, such as gymnasiums, to ensure immediate safety for individuals experiencing homelessness. LAHSA is also collaborating with shelter providers to create an inventory of available beds for people evacuated from flood-prone areas.
Augmented Storm Shelter Response
CEO-HI has approved LAHSA's request to activate the Augmented Winter Shelter program in specific Service Planning Areas (SPAs). LAHSA intends to use this program to assist individuals leaving high-hazard areas before making it more widely available. Furthermore, LAHSA is working to activate the Augmented Winter Shelter Program to make additional hotel and motel vouchers accessible to individuals experiencing unsheltered homelessness.
Additional Weekend Outreach
LAHSA outreach teams conducted extensive outreach efforts in high-risk areas on Saturday and returned on Sunday morning to continue their work. These teams distributed essential items such as rain jackets, tarps, and emergency blankets to individuals in less risky areas who were unable to relocate. The LA County Department of Health Services has been collaborating to coordinate Multidisciplinary Outreach Teams operated by local nonprofit service providers. LAHSA has anticipated the need for overtime activation during the weekend and has established a supervision structure to ensure a well-coordinated response. LAHSA has mobilized additional teams to work through the weekend, focusing on locating individuals experiencing homelessness in flood-prone areas across the City and County of Los Angeles. Additional staff support has been requested from within the agency to bolster storm preparation efforts. All 100+ LAHSA outreach teams will be active across the county on Monday.
Initial Outreach Actions
Beginning on August 17, LAHSA's Homeless Engagement Teams (HET) and Homeless Outreach Services Teams (HOST) initiated notifications to individuals experiencing homelessness in riverbed areas about Hurricane Hilary and facilitated their relocation to safer locations. LAHSA, in conjunction with its partners, has successfully relocated 50 individuals from the Santa Fe Dam area to safety. Coordinated outreach and evacuation efforts have also been carried out for individuals encamped within flood control areas throughout the San Gabriel River Watershed. LAHSA is closely collaborating with Los Angeles County's Office of Emergency Management (OEM), Homeless Initiative, Parks and Recreation Department, and the Red Cross to explore the utilization of park facilities for emergency shelter if the storm escalates to a worst-case scenario. LAHSA continues to maintain close coordination with the Los Angeles Mayor's office and City departments to ensure effective outreach efforts and shelter availability for those in need.